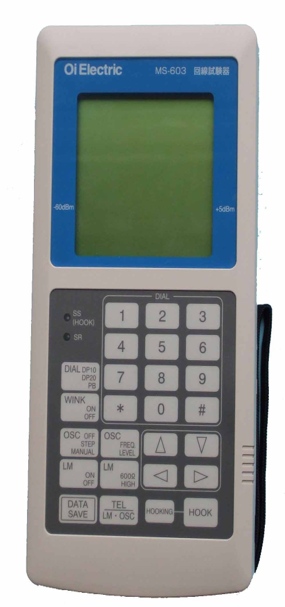 Circuit Inspection Tester
This is a circuit inspection tester for testing the circuit connection and transmission quality of general subscriber lines and OD trunk lines (compliant with the SR system 4-wire and E&M type V).
Equipment Category
Measuring instruments for telephones and facsimiles
It is a tester used for testing voice switched lines consisting of gateways and routers that incorporate general subscriber lines, 2-wire lines in analog extension PBXs, etc., multiplexers (MUX), in-band ringers (IBR), private branch exchanges (PBX).
MS-603 functions as a pseudo-terminal, pseudo-MUX, and pseudo-PBX to enable the testing and verification of the operating conditions of the line connection in transmission devices at opposite ends of the line.
In addition, its built-in oscillator and level meter allow the measurement of transmission quality.
For monitoring purposes, the measured data of line connection sequences can be stored in multimedia cards (MMC), thereby allowing spreadsheet software etc. for PCs to import and edit (graph creation and document handling) the data.
Configuration example
Main Specifications
Main Specifications
Item
Specifications
Measurement terminal
Terminal
TEL
RJ-11 (6-pole 2-core: ISO/ICE11801)
E&M
RJ-45 (8-pole 8-core: ISO/ICE10173)
Input and output impedance/input resistance
TEL
TERMINAL
Input and output impedance:
50 kΩ or higher (ON HOOK)/within 600 Ω±20% (OFF HOOK) * in a frequency range of 300 Hz to 3.4 kHz
Input resistance: 1 MΩ or higher (ON HOOK)/50 Ω to 300 Ω (OFF HOOK)
MONITER
Input and output impedance: 50 kΩ or higher * in a frequency range of 300 Hz to 3.4 kHz
Input resistance: 1 MΩ or higher
E&M
TERMINAL
4WS(T)/4WR(R): Input impedance: within 600 Ω±2%/Output impedance: within 600 Ω±10% * in a frequency range of 300 Hz to 3.4 kHz
Input resistance between SS(M)/SR(E) and (-SG): 40 kΩ or higher (when SS(M)/SR(E) are OFF)
MONITER
4WS(T)/4WR(R): Input impedance/50 kΩ or higher * in a frequency range of 300 Hz to 3.4 kHz
Input resistance between SS(M)/SR(E) and (-SG): 40 kΩ or higher
Level meter
Measurement frequency range
300Hz~10kHz
Level measurement range
TEL: -50 dBm to +5 dBm (↑↓: key with a display indicating overflow/underflow); PBX/MUX: -60 dBm to +5 dBm/Resolution: 0.1 dB
Level measurement accuracy
TEL: within ±1.0 dB; PBX/MUX: within ±0.5 dB
Frequency counter
300 Hz to 9999 Hz/Resolution: 1 Hz/ Counting error: within ±2 Hz (when counting the cycles in a sine wave)
Oscillator
Output frequency
MANUAL:300 Hz to 9990 Hz/Setting resolution: 10 Hz/STEP: 0.3/0.6/0.8/1.0/1.3/1.5/1.8/2.0/2.5/3.0/3.4 kHz (11 points); Frequency accuracy: within ±0.01%
Output level
-50 dBm to +5 dBm/Setting resolution: 1 dB/Output accuracy:
TEL: within ±1.0 dB; PBX/MUX: within ±0.5 dB
Signal purity
Overall distortion factor: 40 dB or higher (300 Hz to 4 kHz)
Distorted waves:4 kHz to 8 kHz: p-30 dB or lower/8 kHz to 12 kHz: p-40 dB or lower/12 kHz to 50 kHz (in each 4-kHz band): p-60 dB or lower; * p: 1 kHz/0 dBm
Line connection control
Hook control
TEL: ON HOOK/OFF HOOK/HOOKING control  PBX/MUX: SS(M)/SR(E) ON/OFF control
Dialing out
Dial signaling system
DP10、DP20、PB
Dialed number
DP10,DP20:1~9,0  PB:1~9,0,#,*
Number of dialed digits
25 digits per dialing sequence * One dialing sequence: between OFF HOOK (SS (M)/SR (E) ON) and ON HOOK (SS (M)/SR (E) OFF)
Dialing
DP10
Speed: within 10±0.1 pps; Make ratio: within 33±1%; Minimum pause: 650 msec or longer
DP20
Speed: within 20±0.1 pps; Make ratio: within 33±1%; Minimum pause: 450 msec or longer
PB
Frequency deviation: within signal frequency±0.2%; Transmission level: -30 to +5 dBm/Configurable in 1-dB steps
WINK transmission
WINK ON/OFF control: A_TIME = 10 msec to 5000 msec; B_TIME = 10 msec to 490 msec; Setting resolution: 10 msec; Output accuracy: within ±1%
Line connection sequence detection
TEL line condition
Open line
Detected when a line voltage of less than 1 V continues for 1,500 msec
ON HOOK
24 V system: Detected when a line voltage of 12 V or higher continues for 100 msec or longer; 48 V system: Detected when a line voltage of 16 V or higher continues for 100 msec or longer
OFF HOOK
24 V system: Detected when a line voltage of less than 12 V continues for 100 msec or longer; 48 V system: Detected when a line voltage of less than 16 V continues for 100 msec or longer
SS(M)/SR(E) condition
ON: Detected when -5V or higher continues to be measured for 500 msec; OFF: Detected when -8V or lower continues to be measured for 500 msec
Call signal
IR (call signal)
Frequency: 15 Hz to 20 Hz; Voltage: (75 - 10 Vrms) to (75 + 8 Vrms); Break-make ratio: within 20 IPM±20%; Make ratio: within 33±10%
SIR (extension call signal)
Frequency: 15 Hz to 20 Hz; Voltage:(75 - 10 Vrms) to (75 + 8 Vrms); Signaling pattern: ON (0.25 to 0.36 sec) and OFF (0.2 to 0.3 sec)
CAR (Information receiving terminal activation signal)
Frequency: 15 Hz to 20 Hz; Voltage:(75 - 10 Vrms) to (75 + 8 Vrms); Signaling pattern: ON (0.4 to 0.6 sec) and OFF (0.4 to 0.6 sec)
Audible sound (tone signal)
DT (dial tone)
Frequency:within 400 Hz±20 Hz; Level:within -30 dBm and -4 dBm; Brake-make ratio:continuous
SDT (Second dial tone)
Frequency:within 400 Hz±20 Hz; Level:within -30 dBm and -4 dBm; Brake-make ratio:240 IPM; Make ratio:50%
PDT (private dial tone)
Frequency:within 400 Hz±20 Hz; Level:within -30 dBm and -4 dBm; Brake-make ratio:120 IPM; Make ratio: 50%
RBT (ring back tone)
Frequency:A carrier (within 400 Hz±20 Hz) is modulated by a signal in a frequency range of 15 Hz to 20 Hz (modulation ratio: within 85%±15%).; Level: within -30 dBm and -4 dBm; Break-make ratio: within 20 IPM±20%; Make ratio: within 33±10%
BT (busy-back tone)
Frequency:within 400 Hz±20 Hz; Level: within -30 dBm and -4dBm; Break-make ratio: within 60 IPM±20%; Make ratio:within 50±10%
Dial signal
DP10
Speed: 8 to 12 pps; Make ratio: within 33±5%; Minimum pause: 300 msec or longer
DP20
Speed: 18 to 22 pps; Make ratio: within 33±5%; Minimum pause: 300 msec or longer
PB
Frequency deviation: within signal frequency±1.5%; Signal level: -24 dBm to -3 dBm
WINK signal
A_TIME = 10 msec to 5000 msec and B_TIME = 10 msec to 490 msec are detected as WINK signals
Resolution: 1 msec; Measurement accuracy: within ±1% (Only "WINK" is displayed, and the measured values are stored in the multimedia card (MMC) when DATA SAVE is enabled)
CALL ID
Information notification service before starting communication (Only CALL ID is displayed, and the information is stored in the multimedia card (MMC) when DATA SAVE is enabled)
* Conforming to "Service interface for information notification on telephony networks - Information notification service before starting communication, version 5 (電話網における情報通知系サービスのインターフェース通信前情報通知サービス第5版)", which is the technical reference document created by Nippon Telegraph and Telephone Corporation
V.25 answer tone
Signal frequency: 2,100 Hz±10 Hz; Signal level: -40 dBm to +5 dBm; Duration: 1,500 msec or longer
Facsimile communication start signal
Signal frequency: 1,300 Hz±10 Hz; Signal level: -40 dBm to +5 dBm; Duration: 1,500 msec or longer
No-ringing communication start signal
Signal frequency: 1,800 Hz±10 Hz; Signal level: -40 dBm to +5 dBm; Duration: 1,500 msec or longer
Data storing function
Line connection sequence information can be stored in multimedia cards (MMC): File format: CSV file format;
File system: FAT16 * Max. capacity: 2 Gbyte (due to FAT16 file system specifications)
Clock
Managed using 24-hour time with the last two digits of the Gregorian Calendar year (YY.MM.DD HH.MM.SS)
Call function
Capable of making calls to devices at opposite ends of the line (by using the HS-107 handset)
Power supply
AA batteries × 4/The AC adaptor (ACP-311M) can be used * A low battery alarm function is available (displaying on the screen and stopping the data storage operation)
Guaranteed temperature/humidity performance
Temperature: 0°C to 40°C; Humidity: 20% to 85% (Note: in an environment with no condensation)
Dimensions/mass
D49.5 × H207.5 × W96.4 mm (Tolerance: ±1 mm/The projection is not included)/600 g or less (batteries not included)