We have branch offices nationwide centered on three sites in Kanagawa, Miyagi, and Iwate prefectures.
We started to produce career telephone equipment at Gotanda, Shinagawa-ku, Tokyo in September 1949, and were inaugurated as Oi Electric Co., Ltd. in January 1950.
In May 1960, we transferred our base of activities to Kikuna, Kohoku-ku, Yokohama, the current head office location. The office has reached its current structure after a series of expansions and renovations.
7-3-16 Kikuna, Kohoku-ku, Yokohama-shi, Kanagawa 222-0011, Japan
TEL:

+81-45-433-1361 (Main number)
FAX:

+81-45-401-8044
Mini exhibition hall displaying Oi Electric products--Showroom--
A variety of products centered on new products are on display. Please feel free to drop in.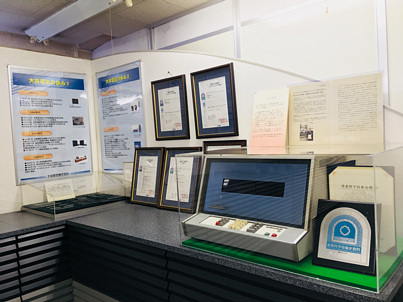 Sendai Research and Development Center
The Sendai Research and Development Center was established in April 1990 as a development base for our products and technologies.
The main development activities focus on mobile communication devices, digital communication devices, and information and communication systems. 
4F, SendaiCentral Bldg., 4-1-1 Ichibancho, Aoba-ku, Sendai-shi, Miyagi 980-0811, Japan
TEL:

+81-22-209-5950
FAX:

+81-22-209-5955
Comfortable environment for human resource development, including for training very capable engineers
In order to adapt to dramatic advancing communication technologies and develop new technologies, Oi Electric has been creating an environment whereby young engineers can devote themselves to development themes and research for which they are passionate.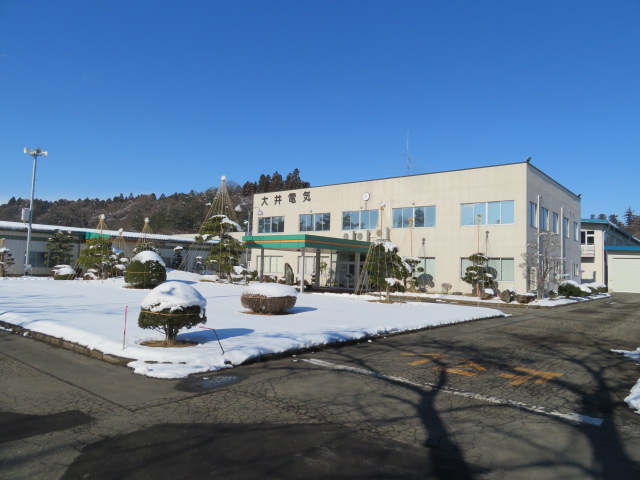 The Mizusawa Plant of OI DENSHI, K.K., the predecessor of the current Mizusawa Factory, was inaugurated in January 1967 as a production department of Oi Electric after it was designated as an "invited factory" with the help of Iwate Prefecture and Mizusawa City.
In November 1973, the plant was moved to newly constructed buildings at the current location. Subsequently, it developed successfully and merged into Oi Electric on October 1, 1989 as its Mizusawa Factory, restarting operations as a production site of Oi Electric.
The Mizusawa Factory produces a variety of products, such as mobile communication devices and industrial information and communication devices.
106-3 MizusawaShinjoorii, Oshu-shi, Iwate 023-0841, Japan
TEL:

+81-197-23-7101
FAX:

+81-197-23-7117
Communication technology that connects people
The factory strives to further improve manufacturing quality by introducing various facilities.
We apply creativity and originality to improve technology, build efficient production lines, and take other measures.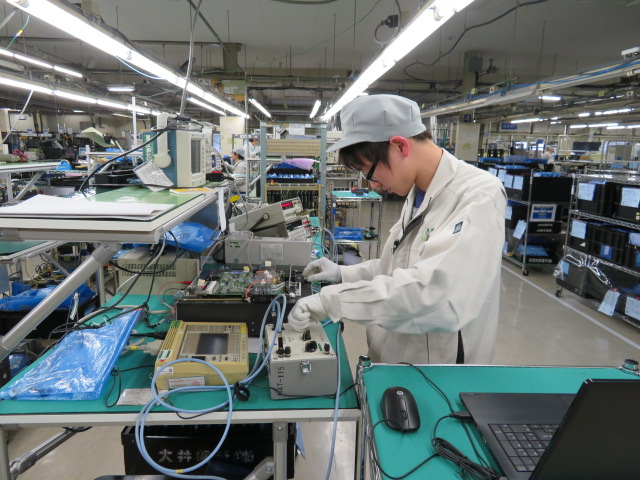 The Mizusawa Factory will provide better products in cooperation with the Yokohama Head Office and Sendai Research and Development Center.
History of the Mizusawa Factory
The Mizusawa Plant of Oi Electric Co., Ltd. was inaugurated.
Became OI DENSHI, K.K., an independent company.
Built a plant at Hanazono-cho, Mizusawa City.
Moved to a new plant in Shinjo, Mizusawa City (current location).
Merged into Oi Electric Co. Ltd. as its Mizusawa Factory.
Acquired the ISO9001 certification.
Acquired the ISO14001 certification.